14 Grief-Stricken Kids to Camp Erin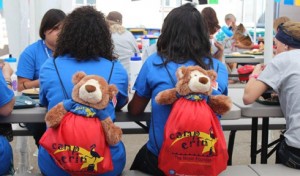 PALM DESERT – The Massage Envy clinics recently presented a check for $3,500 to VNA California's Mourning Star Center to send 14 kids to the Camp Erin grief camp this July. Massage Envy has been engaged in fundraising for Mourning Star and Camp Erin since franchise owner, Holly Lassak became aware of the program.
"We lost my dad when we were teens and it had a profound impact on our family.  Our family was never the same," said Lassak.  Children mimic adult behavior, especially in difficult circumstances.  Yet children are not mini-adults.  It is important they work through their grief, understand that it is okay to remember their "person" and recognize that fun and happiness are also a part of living life.
"Many of our team members have lost loved ones.  When we talked with them about supporting Mourning Star, they were all on board.  Each clinic came up with different ways to engage our members and their team members.  We made it a contest and the creativity was exciting.  They're already planning for next year," Lassak said.
From $2 raffles for free massages to a drawing for a one year paid membership, the fundraising drive encouraged participation. This year's Camp Erin will be held at Cedar Lake Camp in Big Bear July 19 – 21.  More than 100 kids will meet others in similar situations, participate in grief-relate activities and take time to have some summer fun.
"We really appreciate the efforts of the Massage Envy staff.  They have been a great supporter of our program.  This year several massage therapists have offered to come to camp to give our volunteers chair massages.  After several hours with the kids and their energy, this will be a welcome relief," saidVNA California's Mourning Star and Outreach Director, Pamela Gabbay.
For more information, call La Quinta at 760.771.2244, Palm Desert at 760.779.1954 or Palm Springs at 760.969.4800, or visit www.MassageEnvy.com.