Baby Blue Needs a Home
By Kitty Pallesen
I want you to meet "Baby Blue."  She came to me just like many of my rescue animals, right out of the desert.  I am always amazed how any animal can survive such harsh conditions.  A lot of it has to do with timing, and in Blue's case, she was found in October rather than the heat of summer.
In fact,  when my neighbor first saw her, and being a pit bull terrier owner herself, she did not hesitate opening her car door to see if this girl would approach or run away.
Blue jumped right in, happy to be there, thank you.  Since I am well-known in the neighborhood for rescues, they drove down to my place.
"Look at this beautiful, friendly girl. What are we going to do?"  So, Blue and I proceeded to take an extensive drive around all the surrounding ranches and houses, asking everyone, "Does this girl belong to you? Have you ever seen her before?"
Blue was just so happy to be going for a ride. You would think we always did this every day, and it was just another "go for a ride" event. At the end of the day, with no success, I took a good look in to her eyes and was not able to make the drive down to the shelter. Because of her breed, I was not sure of her chances to get adopted. I had recently rescued my first pit bull, Rudy (http://desertstarweekly.com/2013/03/29/rudys-story/), and had fallen in love with him and the breed.
Blue was so sweet and so friendly and so special. Plus, she was not emaciated like so many rescued desert dogs. I had no space for her myself, but did not want to give up on finding her a home.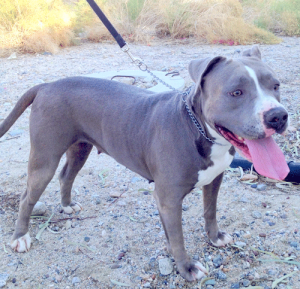 I approached my neighbors about fostering her, and they said yes. Blue has been with them ever since. My experience has been that it is a little harder finding a forever home for a bigger dog, which also happens to be a pit bull.
To say that this breed is misunderstood is an understatement, unless you happen to talk to a fellow pit bull owner, who will rave and brag about the wonderfulness, loyalty, gentleness, and sweetness of their "pits."   I am one of those, since my Rudy happens to be my 88-year-old mother's lap dog and sleeping buddy.
Another testament to Blue's personality is that her roommates in her kennel just happen to be several Dachshunds, an unlikely paring for sure.  Blue's foster dad, Don says, "In all my years of running a kennel, I have never met a more endearing dog than Blue.  She is gentle, obedient, eager to please, has never shown any aggression towards other dogs, and is just searching for love and attention."
My feeling about Blue is that she will give back lots of love and just to be a part of a loving family. If you would like to include Baby Blue in your home and your heart, please email me.
"Saving One Dog's Life Will Not Change The World,
But It Does Change The World For That One Dog!!"