Because you never know…disaster preparedness meeting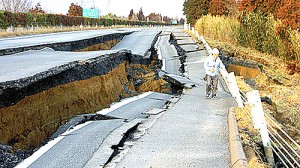 Recent disasters remind us that we too should be vigilant and prepared in the Coachella Valley. Learn from professionals with the Riverside County Office of Emergency Services, American Red Cross, and the California Emergency Management Agency how to better prepare for disasters.
A Disaster Preparedness Town Hall Meeting will be held on Tuesday, June 25 from 10 to 11:30 a.m. at the Palm Desert City Hall, Council Chamber, 73510 Fred Waring Drive.
Representatives from the California Emergency Management Agency will be present to speak on Individual Disaster Assistance Programs.  The meeting is broken up into three parts:
1.              Riverside County OES:    General Disaster Preparedness Information and Role of County OES
2.              American Red Cross:        Information on Shelter Operations and Role of ARC
3.              CAL-EMA:                             Individual Assistance Programs and Role of CAL-EMA
Learn how you can better prepare your family for earthquakes and other disasters; the role of the American Red Cross in a disaster; disaster Individual Assistance Programs available to the public; more helpful tips and tactics to protect your family. For information: 760-776-6326.