Buehler's Day Off Live From Super Bowl XLVIII 
Local radio show Buehler's Day Off live from the big game for the second year!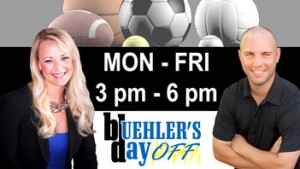 PALM DESERT, CA. – "Buehler's Day Off" takes on Manhattan, the cold, and Super Bowl XLVIII as Julie Buehler mans the microphone from radio row at the MetLife Stadium at the Meadowlands Sports Complex in East Rutherford, New Jersey. 
This is exciting news for the Coachella Valley as for the first time ever, the biggest sporting event in America, the Super Bowl, will be in the country's largest city, and for the second time in Coachella Valley history "Buehler's Day Off" will be representing our valley on Radio Row during Super Bowl week. Generally played in warm climates, at this year's Super Bowl, fans are encouraged to "embrace the cold"! We'll see how our warm-weather sportscaster embraces the cold while giving us in-depth interviews and analysis.
Buehler's Day Off with Julie Buehler and Geoff Bloom is a live, local sports talk radio show weekday afternoons from 3pm-6pm, on the "Valley's Sports Leader", Team 1010 (KXPS).
Team 1010 (KXPS) "The Valley's Sports Leader", a CRC Media West company, is the heritage sports station in the valley covering sports for over a decade. National sports icons Dan Patrick, Jim Rome and Doug Gottleib set the table for local sports talk on Buehler's Day Off with Julie Buehler and Geoff Bloom. Team 1010 dives deep into the community with great High School coverage from Kevin Pillow, including 4 hours of coverage over three days and weekly High School game of the week. Team 1010 is also the Valley's home for NFL Primetime games, LA Clippers, LA Angels, and USC Football along with local teams like SoCal Coyotes football, and Palm Springs Power Baseball.
www.team1010.com