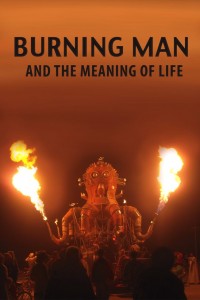 Every year, tens of thousands of people converge in the middle of the Black Rock Desert in Nevada to create a temporary city of epic proportions. The hundreds of lines of RVs wait under the desert sun as thousands of people pour into Black Rock City. It can take up to six hours to get through the entrance gate and the sea of endless vehicles quickly paints the picture. This gathering is called the festival of Burning Man
At the end of Burning Man, its participants depart without leaving a trace, much as they will depart life with little lasting vestige of their existence. Why do all these people from every walk of life come together in the desert? Why do all these people come to the middle of the desert to erect a temporary city? Why do humans do anything—create lives, symbols, cities, states, relationships, and experiences? This documentary film, Burning Man and the Meaning of Life, asks why. It tackles the daunting question: what is the meaning of life?
Blending an overall tour of the festival with an exploration of its participants' answers, the film frames the event with an interesting question. Thematic components are deities/God, sexuality (for reproduction, love, and pleasure), society and community versus self and self-­‐expression, and destruction (the entire festival ends with the destruction of painstakingly constructed symbols, statues, structures, and more). Along the way viewers will meet a variety of colorful            characters, some with hilarious personal views of the questions posed.
The director and producer of Burning Man and the Meaning of Life, Julie Pifher, is the founder of JPIF Productions and an award winning filmmaker, having great success with short films and documentaries. She studied Cinema/ Television Production at University of Southern California, where she studied under industry legends and working professionals. Julie has worked on feature films, music videos, television, and reality shows.
Burning Man and the Meaning of Life will be available on iTunes Tuesday, June 25, 2013.