Cabot Finds Thrill on Miracle Hill Excerpts from a History of Desert Hot Springs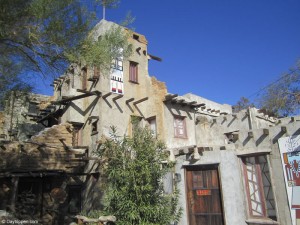 Cabot had struck water 40 feet down in the sand, but it was hot — too hot to stand in — and, as he said, he had no money to buy boots.
But if nothing else, Cabot was an ingenious soul. This, and his stubborn persistence, allowed him to be the first person to discover the hot mineral water that would later put the town of Desert Hot Springs on the map.
His struggle continues in my book "The Waters of Comfort (The Story of Desert Hot Springs, California)":
"So Cabot devised another ploy. 'I took two five gallon tin cans, the square kind, cut the tops out and filled them with cold water. These were put in the bottom of the well. When I came down the ladder I carefully put one foot in each can of cold water.' When the cold water got hot, he refilled the cans and started anew. In this way he was able to finish the well.
"Cabot would go on to dig more wells. And he helped his neighbors dig theirs, like the Dickson's, and Bill Anderson, and Bill Riley. He helped Walter Woods dig down 120 feet, the deepest hand-dug well in the area. He and Anderson dug a dry hole down sixty-five feet for Frank Houghton, near to Cabot's holdings. Ford Beebe hit cold water, and so did Cabot.
"Though occupied with dousing and digging wells for most of 1914, we know where Cabot was on October 5th — at the Queen of Angels Hospital in Los Angeles, where Margaret (Mame) had given birth to a healthy boy. Rodney Yerxa is considered by most to be the first Anglo to be born to settlers in this part of the desert.
"Cabot doesn't remember exactly the moment when it came to him that his discoveries were something special, but he began early on referring to his holdings as 'Miracle Hill.' But years later he knew precisely the merit in his discoveries. 'These were the first wells, and as time moved on much more digging was accomplished. But the first hot one at the foot of Miracle Hill of 132 [F] discovered by me in 1914 was the one of importance because it established the pattern and the possibility for a health resort at Desert Hot Springs as we know it now, and which is but a beginning for a great expanding future.'"
To be continued…