COACHELLA VALLEY ARTS CENTER: PROMOTING ALL ART FORMS, VALLEY-WIDE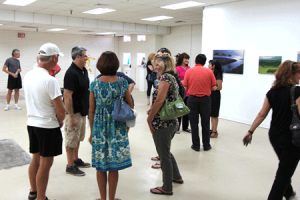 INDIO – Walk into the Coachella Valley Arts Center (CVAC) and you are immediately struck by the actual—and potential—for this 17,000 foot art space. Although located in downtown Indio CVAC, founded in 2011, is the focal point for creative efforts, valley-wide.
Founder/Executive Director Bill Schinsky describes CVAC as a place where "people challenge their individual creativity." Bill's motto?  "If you fail, great.  If you succeed, great.  Just try."
A gallery space—that can hold small intimate shows and large works of art—is the CVAC's focal point. "Here", Bill noted, "is where their recent shows, Tami Coatsworth, Glass and Mike McLain, Painting had 200 attendees." Bill continued, "Visitors saw art glass looking like playing cards and popcorn, along with paintings on printed fabric. CVAC's first visiting and newest resident artists are Coatsworth and McLain, respectively."  
Currently, CVAC's fully functioning studios offers classes in Acrylic Painting, Photography, Ceramics, Cast and Fused Glass, Film Production, and Sewing. Students are of all ages. More in the offing, include: Basic Drawing, Pastels and Collage.  Recognized artists teach all classes and workshops.
The Center also makes available affordable rehearsal space for the performing arts, and space for workshops, meetings, training programs and retreats.
CVAC programs are intended for all desert residents. Plus, the Center sponsors an annual "May as Mental Health Month" exhibit. Clients and staff of the County's Mental Health Department (RCMHD ) explore all forms of artistic expression.  Also, CVAC hosts an annual exhibition conceived and curated by the COD's Gallery Management Class.
Easy to get to from all parts of the valley, CVAC is located at 45140 Towne Street, Indio, CA. As CVAC is still under construction visiting the center is by appointment or during classes. Contact Bill Schinsky at cvartsalliance@aol.com or (760)799-4364 to take a tour, class and get involved. CVAC's website is http://coachellavalleyartcenter.com/ .
Victor Barocas is a photographer, author and educator.  You can contact him at Victor@VictorsVisions.com .