Constipated Nation
U.S. government shuts down for first time in 17 years as budget talks fail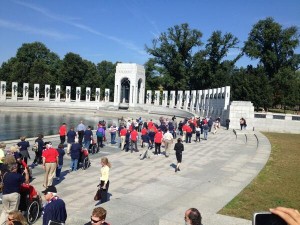 WASHINGTON, D.C. – The U.S. federal government has partially shut down after Congress failed to fund its work amid a Republican drive to defund the Obamacare healthcare program. President Barack Obama addressed U.S. troops to boost their confidence amid the crisis.
The Congress left the government without funding as competing spending measures bounced back and forth between the Republican-controlled House of Representatives and Democratic-led Senate late into Monday night.
The partial shutdown will leave some essential government functions, including national security and public safety, intact. It's not clear how long the situation will continue, with lawmakers expected to take further votes.
If the shutdown persists, it will affect an estimated 800,000 of public workers, who will be forced into unpaid leave as the government would be unable to fund their employment. National parks and most federal offices are closed, as is almost all of NASA, except for Mission Control in Houston
The U.S. Department of Agriculture website went blank on Tuesday, leaving only a warning that it's not available due to the lapse in federal government funding. The shutdown also affects the Smithsonian museums and the National Zoo — going as far as shutting off the zoo's popular "panda cam."
The crisis will initially cost the U.S. economy at least $300 million a day in lost economic output, warned Bloomberg, citing IHS Inc., a Massachusetts-based economic forecast company.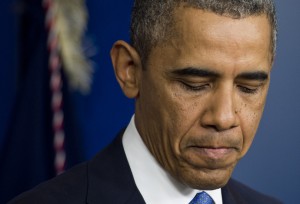 President Obama assumed his role as commander-in-chief to address U.S. troops around the world. He said Congress had failed American soldiers in causing the government shutdown. He pledged that the White House would do everything possible to ensure that troops currently on active duty would receive everything they needed.
The budgetary breakdown raised fresh concerns about whether lawmakers can meet a crucial mid-October deadline to raise the government's $16.7 trillion debt ceiling.
Gerald Celente, publisher of the journal Trends, said the current crisis is "more theatrics than anything else," as with previous U.S. political gridlocks.
"It's the Washington drama queens doing what they always do — behaving in a manner that is unbecoming of professionals and adults," Celente said.
The partial shutdown on Tuesday is the first for the US government in 17 years. It comes after Congress missed the Monday midnight deadline for passing a federal budget.
As a condition for keeping the government funded, Republicans were demanding a one-year delay in making millions of people buy health insurance under the Obama administration's 2010 healthcare law, the Patient Protection and Affordable Care Act. The attack on the White House's key political measure was spearheaded by Republican conservatives from the Tea Party, culminating three years of polarization in America.
The Senate twice rejected the proposed provisions, while Obama said he would veto the House-backed legislation.
The Congressional deadlock has driven the legislature's approval rating down to a record low 10 percent, according to a new CNN/ORC International Poll. President Obama's approval is down to 44 percent.
According to a Reuters/Ipsos poll on who is responsible for the crisis, most Americans, 44 percent, believe it's everyone involved. Another 25 percent blame Republicans, while 14 percent blame Obama and 5 percent blame Democrats in Congress.
As the shutdown loomed Monday, visitors to popular parks made their frustration with elected officials clear.
"There is no good thing going to come out of it," Chris Fahl, a tourist, told AP as he toured Abraham Lincoln Birthplace National Historic Park in Kentucky. "Taxpayers are just going to be more overburdened."
"They should be willing to compromise, both sides, and it discourages me that they don't seem to be able to do that," said Emily Enfinger, a visitor to the Statue of Liberty. "They're not doing their job as far as I'm concerned."
The crisis appeared to be strangely captivating for some foreigners.
 "We can't imagine not having a national health system," said Marlena Knight, an Australian native visiting Independence National Historical Park in Philadelphia. "I just can't believe that this country can shut down over something like a national health system. Totally bizarre, as an Australian, but fascinating."