CV Link Approved!
For The Largest Award In State By The California Transportation Commission
San Jose, CA.– The Coachella Valley Association of Governments (CVAG) is proud to announce that CV Link, a 50-mile pedestrian, bicycle and low-speed electric vehicle transportation corridor along the Whitewater River, was approved today to receive $10.9 million in Active Transportation Program (ATP) funding by the California Transportation Commission. Riverside County Supervisor John J. Benoit and CVAG Chairwoman & Palm Desert City Council Member Jan Harnik attended the commission meeting and spoke to the many benefits CV Link will bring to the region. The California Department of Transportation (Caltrans) received 771 project applications requesting over $1 billion in ATP funds. CV Link is recommended to receive the largest award out of the 126 projects funded with $183 million in available funds throughout the State.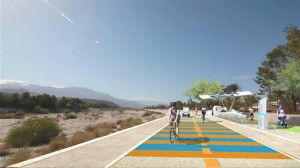 CVAG Chairwoman Jan Harnik commented, "It's absolutely thrilling that our CV Link project has received such significant funding and support from the Commission. This is further proof that CV Link is going to be a real 'game changer' for our Coachella Valley."
The California Transportation Commission cited CV Link's significant impacts in safety, emissions, connectivity and public health as the main reasons behind their strong support of the project.
"CV Link will position the region as the leader in green transportation infrastructure and will also drive tremendous prosperity for our economy" said Riverside County Supervisor and South Coast AQMD board member John J. Benoit. "New businesses and redevelopment will occur along the corridor and tourists from all around the world will use the facility."
The addition of the ATP award gives CVAG $75.9 million in funding to date for CV Link. The Master Planning effort of the project is nearing completion, and the engineering phase is underway with an estimated project construction start date of 2017. For information about CV Link, please visit www.CoachellaValleyLink.com and to learn more about ATP and the California Transportation Commission visit www.catc.ca.gov.
Source: CVAG