Divers Back Out Today Searching For Missing LA Man
By Angela Monroe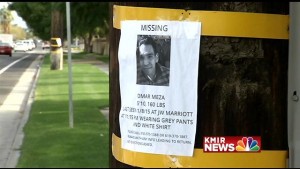 The Riverside County Sheriff's Department tells KMIR today they are continuing the search on the property of the JW Marriott.
Officers say the visible part of the dive team search isn't all they are doing; the sheriff's department says they are working any and all angles of this missing person case.
After today's search, officers say they will decide where to focus their search efforts for the following day.
They continue to ask the public to contact them if they have any information.
33-year-old Omar Meza, a vice-president for AIG Financial Distributors, was last seen around 11pm last Thursday at the JW Marriott Desert Springs Resort and Spa.
His family traveled to the valley to help with the search, and continues to work to spread the story nationwide.
————-
PALM DESERT — It was a long, agonizing weekend for a family searching for a man missing here in the desert.
He's from Los Angeles, and was last seen on Thursday at the JW Marriott in Palm Desert.
His family has now traveled to the valley, trying to help in the search which included divers searching a pond.
The sheriff's dive team is searching the lake for the second day.
Omar Meza traveled to the valley for business last Thursday and was last seen on surveillance video in a parking lot here at the JW Marriott.
Omar's wife tells us he met with coworkers that night for dinner, then took an Uber ride to the JW Marriott.
His wife says there must have been some confusion on which Marriott because he was booked for the Courtyard Marriott, not the JW.
Days continue to pass, and Omar Meza remains missing.
Sheriff's dive teams are searching the lakes at the JW Marriott in Palm Desert.
His family is still holding out hope that he will be found safe.
"Video surveillance footage shows him coming in around 11:15 so he spoke to me while he was here, and there's footage of him exiting around 12:20 or so and he seen walking towards a parking lot," said Omar's wife, Diane Meza.
That was the night of Thursday, January 8th.
Omar's wallet and jacket were found on the golf course of the JW Marriott.
His wife, Diane, say police bloodhounds led them to a lake on the property.
"He was a stronger swimmer, we remain optimistic so that's why we're just trying to get his face out as much as possible," said Diane.
Omar didn't show up for his work meetings the next day.
His brother, Sven Meza, says Omar travels to the valley for business often.
"Omar is very analytical, very smart, he's a person who likes a schedule, likes an itinerary, he likes to keep, and with that being said, he also checks in," said Sven.
Omar's family has called hospitals, put out fliers and is asking for the public's help in the search.
"We have faith that he may have possibly gone into the lake and gone out and he's wandering around with some type of memory loss and he needs to contact, or someone may have seen him that can contact us, we're still keeping the faith at this point," said Sven.
Omar's wife says she just wants to bring home her husband of five years.
"He just made everything so much better, he was my champion, he really encouraged me, this was going to be a big year for us, we had lots of good plans, and happy times, we really loved to travel together. Yeah, it's hard," said Diane.
The family is offering a reward for information leading to his return.