DON'T MISS THE LIVING DESERT'S FINAL ZOO CHILL DAY
SATURDAY, SEPT. 7 - First 200 Adults Receive Free "Zooler" Coolers Filled with Bottled Water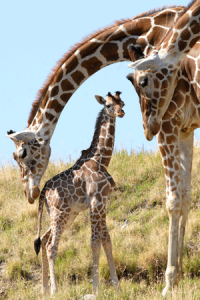 PALM DESERT/INDIAN WELLS – If you've never seen a giraffe lick a frozen snack, you're in for a treat at The Living Desert's final Zoo Chill Day on Saturday, Sept. 7.  Guests can also enjoy free frozen treats, and the first 200 adults who enter the park will receive free personal sized reusable coolers – "zoolers" – filled with bottles of Aquafina water. 
Don't miss out on the final Zoo Chill Day of the summer! Guests will be invited to enjoy free frozen grapes at the Meet and Greet area outside the café near the park entrance, and giraffes will receive special frozen treats in their exhibit.  Also, mention the code word "Chill" in the café, grill, garden center or gift shop and receive 10% off your purchase.
Chilling out is easy at The Living Desert where misted rest spots are located throughout the zoo, and guests can enjoy the park's many shaded areas such as Village WaTuTu and the aviaries.  A variety of indoor exhibits, including the Miriam U. Hoover Discovery Center, the reptile exhibit, and the Tennity Wildlife Hospital and Conservation Center, also offer places where guests can cool off from the summer heat.
Schedule for the Sept. 7 Zoo Chill Day:
9 to 10 a.m.     Giraffes will receive special frozen treats in their exhibit.
9 to 10 a.m.     Park guests are invited to the Meet and Greet area next to the park entrance for                    free frozen grapes.
9 to 11 a.m.     Free trackless train rides for kids at the Discovery Center.
The free bottles of Aquafina water are donated by Pepsi.  For more information about The Living Desert, visit www.livingdesert.org, or call 760-346-5694.  The park's summer hours are 8 a.m. to 1:30 p.m. (last admission at 1 p.m. 
For more information: (760) 346-5694 or visit www.LivingDesert.org. The Living Desert is located at: 47900 Portola Avenue, Palm Desert, CA 92260.