Easter Eggstravaganza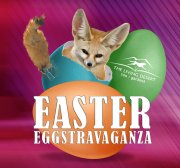 PALM DESERT/Indian Wells, CA … Hop on over to The Living Desert for a jumping two-day Easter "Eggstravaganza" from 10:00 a.m. to 2:00 p.m. on April 19th and April 20th. This is no ordinary Easter celebration, but a fun-filled event springing numerous activities for the entire family, including a notable egg hunt with 10,000 eggs, a participant Easter's parade and memorable photos with the Easter Bunny and his strolling crew, plus much more.
Taking place each day are two engaging and age-appropriate Easter egg hunts for the kids, jelly bean counting contests, face painting, bounce houses, and animal mask crafts. Expanding on traditional Easter's celebrations, The Living Desert wasn't kidding about an eggstravaganza! The day includes special animal enrichment presentations and chats with animals that lay eggs, a "Peep" Show with the peeps, musical entertainment, Easter's parade with the Easter Bunny and last, but not least, adult-specific activities.
Those 18 years and over are encouraged to test their egg fox hunting skills with an adult specific Golden Egg pursuit and an egg eating contest to see how many eggs they can eat before raising the "hare" on their back. Prizes for the various contests for children and adults include exclusive park tours, Brew at the Zoo tickets. Animal adopts, memberships, and more.
Easter Eggstravaganza Schedule:
10:00 – Egg Hunt (ages 2-8)
10:30 – Peep Show/Egg Eating Contest
10:45 – Egg Hunt (ages 9-12)
11:30 – Peep Show/Egg Eating Contest
12 Noon – Easter Parade
12:30 – Egg Hunt (ages 2-8); Peep Show/Egg Eating Contest
1:15 – Egg Hunt (ages 9-12)
1:30 – Peep Show/Egg Eating Contest
The cost for the Eggstravaganza event is free for members and included with paid admission to the park. General Admission is $17.25 for adults; children ages 3 to 12 year is $8.75 and children under 3 years old are free. Seniors (62+), military and AAA members are $15.75. Tickets can be purchased online at www.LivingDesert.org. The Living Desert is located at 47900 Portola Ave. For more information visit the web site or call (760) 346-5694.