Ever- REDDY
Whether Exercising Her Pipes or Pushing Hillary for President, a '70s Pop Icon Keeps Going
By Dean Lamanna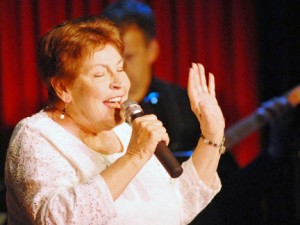 PALMS SPRINGS – Helen Reddy has an affinity for this city that goes back to her Grammy Award-winning days in the 1970s, when she would steal away to the desert from the bustle of Hollywood for recharging respites in the sun. So she's excited that her next performance date at the Annenberg Theater on Saturday, Dec. 14, titled "Home for the Holidays," is bringing her back to the Coachella Valley's relative cool-season warmth.
 "I haven't been to Palm Springs for so long," said the pop music and feminist icon in a chat with Desert Star Weekly. "I'm really pleased that we're going to stay overnight and maybe have a little lie-around by the pool the next day."
 In actuality, it wasn't terribly long ago — March 1, 2012, to be exact — that Reddy sold out the Annenberg upon her initial return to the stage after a decade of retirement. At the time, her reasons for stepping back into the spotlight ranged from an impromptu duet at a birthday party for her older sister to simply missing making music.
 Her answer today? "Because I was bored staying home," said Reddy, who had turned to motivational speaking and practicing clinical hypnotherapy after she stopped singing in 2002. "It was time for me to get back in there and have some fun."
 And fun she is having at 72 — playing a few dates at a time at comfortable venues in various parts of the country, rather than embarking on a full-on tour. "My sister is thrilled, and I think my kids are pretty pleased," she said. "Most of my fans are very pleased. So, yeah, it's been nice."
 Also nice, in Reddy's view, is the progress women have made in the push for gender equality since the early 1970s, when her number-one hit "I Am Woman" became not only an eight-track tape-burner for Baby Boomers, but the adoptive anthem of the feminist movement. At the same time, the singer thinks much more needs to be accomplished, and indeed, feels that some of gains made by women in the last four decades have been "trampled on" in recent years.
 "We were doing a lot of marching there around 1970-71," she said. "Things are moving, but not as quickly as they should. It's been one step forward, three steps back."
 What's her primary rallying cry today?
 "Of course, I'm geared toward female issues, and I'd just like to see more women in more political places," she said. "So I'm really hoping that Hillary (Clinton) makes a stab for the White House. She's extremely intelligent — very, very well-read — and she's on top of everything. She'd make a wonderful president."
 The Australian-born Reddy has had a life and a career richer and more varied than anything she could ever have imagined as a girl in Melbourne. She was the first western female performer invited to sing in the People's Republic of China. She has dined with the Prince of Wales and has even had a tulip named after her in Holland.
Those were the perks of being one of the Me Decade's biggest recording stars — with more than a dozen Top 40 hits in the U.S. The first Australian to win a Grammy Award, Reddy had 15 Billboard Top 40 singles, six Top 10 singles and three number-one singles, including "Delta Dawn" and the still-haunting "Angie Baby." She has sold 25 million albums.
As a solo concert artist, Reddy played Carnegie Hall and the Lincoln Center in New York, and in London, appeared at the Royal Albert Hall and the Palladium. She also made forays into theatre, film and television, at one point hosting her own one-hour weekly primetime variety show. But her screen work, including a supporting part in the disaster movie "Airport 1975" and the top-billed role in the 1977 Disney fantasy "Pete's Dragon" — both commercially successful — failed to make her a singular box office draw.
Reddy's earnest turn as a nun who serenades critically ill kidney patient Linda Blair aboard a crippled airliner in "Airport 1975" — characters memorably spoofed a few years later in the feature comedy classic "Airplane!" — was, at the very least, an example of brazen anti-typecasting.
 "Oh, it was great… I was a singing, flying nun!" she said. "I thought the whole thing was a hoot, quite honestly. One of the funny things to me was that it was my first movie and Gloria Swanson's last."
 Following those efforts, Reddy "did a few little walk-on (TV) things here and there, just for the hell of it" in order to maintain her Screen Actors Guild membership. "But, listen," she said, "my love is music. And I love going out on the road with the band. That's probably my greatest joy."
 Does she have any advice for aspiring singers?
 "So much has changed in terms of the business and everything else that I really don't know how to advise people nowadays," Reddy said. "So much of the way things were run when we were younger, it's just disappeared."
 "Music changes all the time. We're doing so much more, like bringing in different rhythms. It's an ongoing thing. And I stay the hell out of the business part of it."
 Reddy let out a long sigh when asked if she'll resume recording.
 "Well, my son is very keen for me to do that. But I'm just sort of enjoying what I'm doing right now. I will do another album. I will do it. But it's not going to be immediate."
 The singer was slyly evasive when asked whose music she herself enjoys these days.
 "I am thrilled to say that Katy Perry and I have the same birthday," she replied with a chuckle. "I hope she's as pleased as I am."
Great seats are still available for Helen Reddy's one-night Dec. 14 show at the Annenberg Theater, located in downtown Palm Springs on the north side of the Palm Springs Art Museum, lower level, at 101 Museum Drive. For tickets, visit reactionshows.com or call 760.322.3554.