Finally, A Film About Motorcyclists Who Ride With Their Dogs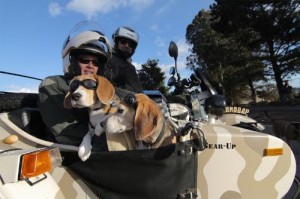 MISSOULA, Mont., — The latest project by veteran indie filmmakers Eric Ristau and Geneva Liimatta is an upbeat documentary that also focuses on a worthwhile cause. OK, the subject matter is a little bit out of the ordinary – but who cares?
This husband-and-wife team from Missoula, Mont., is putting together a film about motorcyclists who bring their dogs along for the ride. No, these easy-riding pups don't sit on the seat, clasping their owner's midsection. They ride in sidecars and wear specially designed dog goggles (called "doggles"). Fittingly the movie is entitled Sit Stay Ride: The Story of America's Sidecar Dogs.
"Seeing a dog in a sidecar brings a smile to everyone's face," says Liimatta. "Our film explores the relationship between sidecar dogs and their motorcycle-riding humans. The dogs and humans we've met while shooting this project are amazing characters. You'll love them all."
So far, footage for Sit Stay Ride has been shot in Washington, California and Montana. "We've found other amazing sidecar dogs in other parts of the country," Ristau says. "We really want to include them in the movie."
Traveling around the country to produce a film is an expensive proposition, however. Ristau and Liimatta have a budget of $28,000 for travel, a soundtrack, sound mix, color correction, DVD manufacturing, distribution and promotion.
In order to defray these costs, they have launched a Kickstarter campaign, encouraging dog-lovers, motorcyclists and anyone else to support production of the film. Thus far, about $10,000 has been raised. Information about their Kickstarter campaign, including sample clips from the movie, can be viewed at www.sidecardogs.com.