'Frozen' Melts Hearts, Raises Bar for Artistry
By Theda Kleinhans Reichman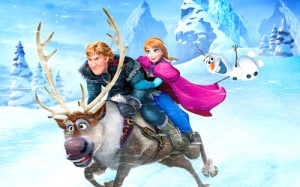 "Frozen," the latest animated fairy tale from Disney, was inspired by Hans Christian Andersen's "The Snow Queen," which was first published in 1845. Dating back to the early days of Walt Disney Productions, the story piqued the interest of Walt himself. And as they did with Andersen's beloved "The Little Mermaid," the company's latter-day animators have turned the tale into something distinctly "Disneyesque."
Even though "Frozen" involves tons and tons of ice and snow, the film's central theme is aglow with the warm power of love shared by two sisters, the deep affection a young mountain man has for his pet reindeer, Sven, and the endless camaraderie provided by a goofy-looking little snowman named Olaf, who observes to Princess Anna, "Some people are worth melting for."
Set in the mythical Scandinavian kingdom of Arendelle, "Frozen" fills the screen with snowcapped peaks, a majestic castle and helpful, friendly mountain trolls. The story begin as two royal sisters, Elsa and Anna, awake early and decide to make a snowman together inside the large castle ballroom. Even though it's still springtime in the Kingdom of Arendelle, Elsa is able to create ice and snow by twirling around and waving her delicate hands in the air. But this magical gift is suddenly viewed as a curse when Anna is injured in the flurry of interior snow. At this point, the King and Queen view Elsa's icy magic as a curse that must be controlled forever.
To keep her powers in check, Elsa must remain alone in her room until she no longer can create icy havoc. Sadly, this keeps the two sisters apart until the day of Elsa's coronation. When her powers once again overwhelm, Elsa leaves her kingdom, with Anna going after her in hot pursuit. Anna is determined to be reunited with the sister she has always loved despite their separation. She can't do it alone, so Anna enlists the aid of a reluctant young mountain man, Kristoff, and his lovable reindeer, Sven, who has the personality of a giant Labrador retriever. Soon they're off on a treacherous, often hilarious adventure.
This exquisitely animated comedy-adventure is not only visually stunning, it's funny, exciting, romantic and filled with a lush musical score by Kristen Anderson-Lopez and her Tony Award- winning husband, Robert Lopez, who co-wrote "Avenue Q" and the Broadway smash "The Book of Mormon." Their narrative-propelling songs are presented by an ensemble of Broadway singers who include Idena Menzel (Tony winner for her portrayal of Elphaba in "Wicked) and Kristen Bell — providing the voices of Elsa and Anna, respectively. Josh Gad (Tony nominee for his hilarious turn in "The Book of Mormon") is Olaf, the snowman.
According to screenwriter and co-director Jennifer Lee, "Frozen" is "a simple tale about the power of family… told through a family's epic journey — their struggle to overcome fear and find the true meaning of love."
It's that, for sure. And a whole lot of fun, to fur-lined boot.
"Frozen," from Walt Disney Pictures, is rated PG.