Fun with Family Dysfunction in 'August'
By Theda Kleinhans Reichman
Playwright Tracy Letts's "August: Osage County" was the darling of Broadway — garnering five Tony Awards during its run, plus the Pulitzer Prize. Now this acclaimed comedy-drama has arrived on the screen, adapted by Letts. Meryl Streep stars as the totally messed-up matriarch of a family so dysfunctional your family will look positively marvelous by comparison, whatever its flaws.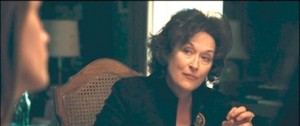 The father of the clan (Sam Shepard) is missing, and his sudden disappearance brings the daughters back home in an effort to locate dad as well as provide moral support for their very difficult, drug-addled mother. You soon realize why two daughters have flown far from the nest, leaving their middle sister behind to cope with their parents. Julia Roberts portrays the eldest daughter (and along with Streep, has earned a Golden Globe nomination for her work here).
Various family members are introduced, including Roberts's baby sister (Juliet Lewis), and all carry some sort of personal baggage beyond their actual luggage.
As the film opens, the parched, sizzling landscape of Osage County in August comes into focus. Onstage, the action basically took place within the confines of the family's house and yard, providing a sense of claustrophobia each family member experiences in close proximity with one another. The stage version also allowed the audience to see the action in totality as it happens; seeing the mother self-destruct from a distance was more tolerable for me personally than constantly having the snarling, controlling character in close-up onscreen.
While the story deals with impending tragedy and the shadowy corners of a talented but truly unhinged family, it is also darkly humorous. Perhaps the most telling and discomfortingly hilarious portion of both the film and play, takes place at the dinner table when the entire clashing clan sits down to one of the most unpleasant meals imaginable. Being a part of this dinner gathering is enough to give anyone severe heartburn; the scene is at once terrible, funny and terribly funny.
Despite the anger and unhappiness at the core of this family's dynamics, Letts also reveals many loving memories that have kept them together despite their pain. It makes for an often involving, if uneven, viewing experience.
"August: Osage County," from The Weinstein Company, is rated R for language, sexual references and drug use.