Gary Jeandron For CA -Assembly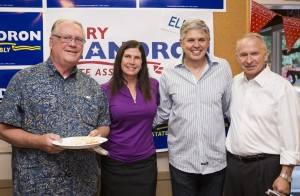 The beautiful Los Compadres Ranch in Palm Springs was the setting for a fundraising event complete with barbecue for Gary Jeandron, who is running for State Assembly.
Gary is a retired Palm Springs Police Chief Jeandron, serving over 30 years with the Palm Springs Police Department. He started as a Records Clerk and became chief of Police 29 years later in 2002. Chief Jeandron retired at the end of 2007.
As Chief of Police, Jeandron managed a Department with 94 sworn officers, 156 total employees, and an annual budget of $22.4 million. His management of the department led to the continued confidence of both the City Council and his rank and file officers.
Jeandron's public-safety decorations include Police Officer of the Year, Medal of Courage, Chairman of the Palm Springs Police Memorial Fund, 18 years as a SWAT team member, and Police Department Citizen Academy Instructor. Chief Jeandron is a graduate of the F.B.I. National Academy.
In addition to serving as Police Chief, Jeandron was elected to serve on the Palm Springs Unified School Board of Directors. As a school board member Jeandron supervises a school district with 24,000 students serving the communities of Palm Springs, Desert Hot Springs, Thousand Palms, Cathedral City, and Rancho Mirage. Gary is a past president and has been a member of the Lions Club for more than 15 years. He is also involved in several non-profit boards dedicated to assisting at risk youth.
Introducing Gary to the attendees was former congresswoman Mary Bono, who has endorsed Gary because of his public service background and vision for the State of California.
Visit www.GaryJeandron.com