Hands of Christ Ministries Presents 2nd Annual Dinner and Live Auction
Desert Hot Springs, CA – Hands of Christ Ministries will present 2nd Annual Dinner and Live Auction taking place at Miracle Springs Resort & Spa on November 16, 2013. Please buy your tickets by Nov. 6, 2013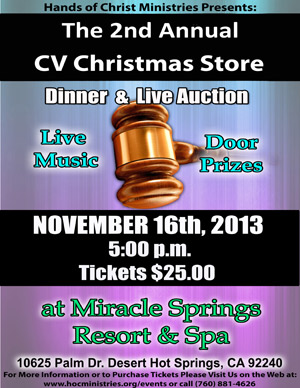 The Coachella Valley Christmas Store wisely combines the message of hope with the joy of the Christmas Season!
The Narrow Door along with the LOV Movement and other collaborative partners throughout the Coachella Valley, are celebrating the 10th year of The Coachella Valley Christmas Store.  We are committed to identifying needs of valley families throughout the year.  At Christmas time, we focus on those who are financially destitute, weary and unable to provide Christmas celebrations for their families.
We are gearing up to do fundraisers to support the 2,000 families we hope to serve this year.
One such event is the 2nd annual Dinner & Auction Gala at Miracle Springs Resort & Spa.  This special event is being hosted by Hands of Christ Ministries & other dedicated volunteers, and will take place Saturday, November 16th at 5:00 pm. Patrice Kimbler, director of both Hands of Christ Ministries & The Christmas Store located in Desert Hot Springs (Grace Church)  says "We are thrilled to host another fun-filled evening of entertainment in support of the CVCS."
We are so grateful to the many churches, civic, community and business sponsors that so generously support the efforts of the CVCS.
Donations of unique items like original paintings, lithographs from world renown artist, Shari Hatchett Bohlmann, "Sunday Morning",  Meridy Volz an original painting, Crystal Armstrong, "Persian Tiger" gift baskets, electronics, spa and hotel packages, luxury services (for pets, too) will be auctioned thanks to generous donors.  These items make the CVCS Dinner and Auction Gala the place to be. This really helps us meet the needs of families in the Coachella Valley.
All proceeds from this benefit dinner/auction will help the TND; CVCS provide gifts chosen by their parents, gift wrapped, a box of food to have a special Christmas dinner, and a beautiful family photo.  We also provide resource materials to help families to become stable members of the community as we continue to follow up with them all year long.
Hands of Christ Ministries is honored to be partners with the TND; CVCS, we would like to invite you to partner with us to make this year the best Christmas Store Dinner and Auction ever!

If you would like to donate items for the auction or to purchase tickets please visit hocministries.org/events, or you may call The Narrow Door at 760-775-6200.