Happy Trails at YMCA's Hoedown at Sundown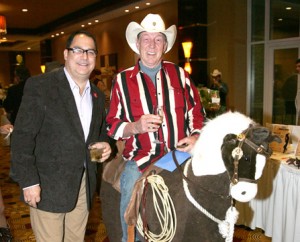 RANCHO MIRAGE – The YMCA held its 26th annual Hoedown at Sundown at the Agua Caliente Casino Resort Spa last Saturday, Nov. 9.
This fun-filled event raises money for the YMCA's 44 sites in the Coachella valley through ticket sales and silent and live auctions. There were tables of silent auction items and 11 live auction items that included trips, tickets to the Frank Sinatra Celebrity Golf parties and The BNP Parabas Tennis Open, and dinners for 50 people.
Guests came in western garb and cowboy hats. There were games and photos by the "jail" during the cocktail hour, and music was supplied by Billy Erickson and the Bandits during a BBQ buffet dinner.
YMCA Chair Michele DeMille and President of the Board Jim Latting, along with Terry Bona (bottom photo), all had a great time. And entertainer Big John Miller and YMCA CEO Rob Ballew (top left photo) seemed to hit it off famously.
Patrick Evans of KPSP Local 2 News (top right photo, shown with "Bandit" Billy Erickson) was the emcee for the evening and talked about the wonderful work the YMCA does in the Valley.
The Y serves over 3,400 kids before and after school. All the money raised will help the Y with its childcare and financial assistance programs, as well as youth sports and fitness that help build self-esteem.