Hard Rock Imagines Hunger-Free World
By Frieda Noone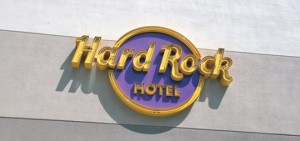 PALM SPRINGS – Hard Rock Hotel Palm Springs is now accepting canned goods and other non-perishable food items as part of the brand's annual Imagine There's No Hunger global awareness and fundraising campaign. The resort, which opened its doors just one month ago, has partnered with the Coachella Valley's FIND Food Bank in an effort to battle hunger right here in Southern California. Anyone wishing to contribute is welcome to drop off canned goods at the hotel front desk, or purchase Imagine bracelets at the hotel's Rock Shop to support the cause.
Now in its sixth year, Imagine There's No Hunger is a global campaign that fights childhood hunger and poverty through the support of sustainable agriculture education and nutritional feeding programs. In a time where 1.4 billion people live below the poverty line, 820 million people are undernourished and 16,000 children die from hunger-related causes every day, it's hard to imagine John Lennon's vision of a world with no hunger.
To ensure that the message Lennon sent in his iconic song "Imagine" lives on today, artist and musician Yoko Ono Lennon has joined forces again with Hard Rock International and WhyHunger for the Imagine There's No Hunger campaign.
"Imagine There's No Hunger helps to further a vision that John shared in his song 'Imagine' nearly four decades ago," said Ono Lennon. "This program works to make that vision a reality, hoping to one day eliminate the hunger and poverty that affect billions of children and families worldwide."
To date, Imagine has helped communities in 22 countries grow enough food to provide over 7.2 million nutritious meals to children, supported programs that taught over 8,800 family and community members techniques for sustained food production and raised more than $5.6 million to help fight childhood hunger. Proceeds from Hard Rock's campaign will directly benefit WhyHunger and its efforts to build a movement to end hunger and poverty by supporting sustainable grassroots solutions that inspire self-reliance and community empowerment.
Through the Imagine campaign, every dollar makes an impact. From now through the end of December, Hard Rock will offer limited-edition Imagine There's No Hunger merchandise — available exclusively at Rock Shops at Hard Rock Cafe, Hotels and Casino properties around the world and online at hardrock.com.
WhyHunger is a leader in building the movement to end hunger and poverty by connecting people to nutritious, affordable food and by supporting grassroots solutions that inspire self-reliance and community empowerment. Founded in 1975 by the late Harry Chapin and its current Executive Director Bill Ayres, Why Hunger works to put an end to hunger suffered by 49 million Americans and nearly 1 billion people worldwide.
WhyHunger's main programs include the National Hunger Hotline 866.3.HUNGRY, which refers individuals in need of emergency food assistance to soup kitchens, food banks, government nutrition programs and community organizations in their neighborhoods; the Grassroots Action Network, which provides information, networking opportunities, capacity building and access to over 8,000 anti-hunger & poverty community organizations across the U.S. and around the world; and Artists Against Hunger & Poverty which is supported by Bruce Springsteen, Michael McDonald, Chicago, Earth Wind & Fire, Joss Stone, Darryl McDaniels, Jackson Browne, O.A.R. and many others.
For more info, visit whyhunger.org.