Important Points to understand about Medicare
By Janice Gough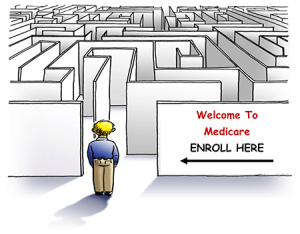 Many people do not know that Medicare is mandatory after age 65.  The only exception is if you are covered under a large group plan of more than 20 employees.  You must enroll in Part A of Medicare (Hospital, Skilled Nursing, Blood, and Hospice), if you are insured by a Small Group plan (under 20 people), a retiree plan, COBRA, or in an individual health plan. When turning 65, you have a seven month time frame to enroll, (three months prior to age 65, the month of, and three months after). You also have a seven month time frame to enroll when leaving a group plan.  Medicare's basic plan has deductibles and co-payments which are the individual's responsibility to pay.  Many people do not realize that Medicare does not include a Stop-loss.  This means that you never reach a maximum out-of-pocket per calendar year. For those who do not add a Supplement plan or a Medicare advantage plan, this could cause them to pay substantial amounts of money if they have a healthcare catastrophe.  You must enroll in Part B (Professional services) in order to enroll in either of these plans or the Prescription Drug entitlement.
It is important to understand that if you do not sign up when eligible, you are penalized permanently. The late enrollment penalty (LEP) for Part B is 10 per cent for every month not enrolled when eligible. If you miss this enrollment period, you must sign up between Jan. 1 and Mar. 31, for a July 1 effective date. This is the only enrollment period Medicare offers during the year.  The LEP for medicare part D, prescription drug plans is one percent of the national base benefit premium for each month not enrolled when eligible.  When changing to a medicare Prescription plan to a Credible Coverage plan, you have 63 days to enroll without penalty.  A credible plan is defined as one which is at least as good as medicare part D.  If there is a reason you feel that a mistake caused you to enroll late, you can file an appeal with Maxim, a company who handles this situation, in order to remove the penalty.
Medigap plans are standardized, but prices are not.  Medicare drug and advantage plans change year to year, requiring annual reviews of existing plans and survey of new offerings.  These plans are priced according to the area you live.
Some of the services not covered by Medicare and their average cost are: homemaker services, $18 per hour; Home aide services, $19 per hour; adult day care $61 per day; assisted living, $3,300 per month;  semi-private Nursing home, $200 per day; and Private Room nursing home, $222 per day.  These are national averages and will vary according to area and types of services provided.
Considering the inflation rate at five percent, the cost of long term care will be $200,000 per year in 20 years.  There are three ways to pay for long term care: insurance, private pay, or Medicaid.  For those who would not want to be in a Medicaid qualified facility or who wish to protect their assets, Long Term Care insurance is a major consideration for future protection.
Janice Gough is an advisor located in Palm Springs. For more information, email her at janice@goughinsurance.com or call (650) 342-7744. We offer a free guide to Medicare.