Improving Kids' Health for the School Year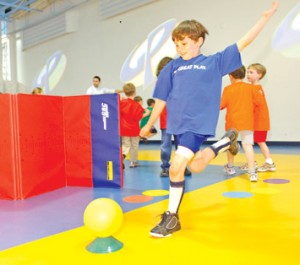 Childhood obesity rates have skyrocketed over the past 30 years. Presently, one-third of American kids are overweight or obese.
            Since most kids consume half their daily calories at school, healthy eating habits must be addressed both at home and in the classroom.
            "Unfortunately, healthy eating for kids isn't always stressed consistently," said Debbie Blacher, founder of Wholesome Tummies (wholesometummies.com), a children's food franchise devoted to bringing nutritious meals to schools. "Many kids lack access to nutritious food and good information about healthful eating and behaviors."
            Blacher, a mom herself and an expert on crafting healthful school lunches, offered these lunch- packing ideas for parents:
            • Make a bento box: Instead of packing the traditional entrée and sides, make lunch out of small snacks in a multi-compartment box. Hardboiled eggs, raisins, an apple or other fresh fruit, crackers, tuna fish, pasta salad, veggies, dips and more. 
            • Travel the world: Go with an international theme each day, such as Mexican, Asian or Italian. Include an educational note about the meal's origin. 
            • Include a surprise: Kids love surprises, such as favorite photos, stickers or a reminder about an upcoming event. A lunch box surprise can make your child's day extra special. 
            But nutrition is only half the equation. As screen time competes for kids' attention, active time is decreasing. And exercise is crucial to preventing obesity, improving motor skills and providing a social outlet.
            Unfortunately, not all kids are receptive.
            "One of the biggest challenges is getting shy kids to participate," says Jyl Camhi, co-founder of Great Play (greatplay.com), a children's gym franchise that uses interactive technology and a progressive curriculum based on motor-skill development.
            Camhi offered these suggestions to coax a child forward in a group fitness scenario:
            • Never force participation: The first time in a new environment can be emotionally draining. Be a source of comfort for your child while he or she sits on the sidelines. Stay for an entire class and return the next time.
            • Look for peer leaders: Outgoing children are often thrilled to help another child feel more comfortable.
            • Sometimes leaving helps: Oftentimes kids behave better when they don't have a parental crutch to lean on.
            • Pay attention to leaders' personalities: Whether it's in classes, sports or school, the leader can make or break the experience. Does the coach make kids comfortable? Look for telltale signs and find a coach that works well with your child.
            There are some trends not worth following — and an unhealthy lifestyle is one of them. With the right tools and tricks, you influence your children's health positively.