The IV Tenors Blow The Roof Off Agua Caliente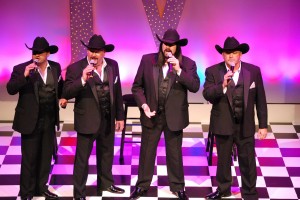 If you're looking for the best entertainment buy in the Desert this year head for the cozy, intimate Lounge at the Agua Caliente Casino Resort Spa, Greg Thompson's The IV Tenors are sure to please all audiences with their powerhouse performances of classic Rock, Pop, Country, classical music and Broadway hits!
The Seattle Times said, "The IV Tenors nearly blew the roof off the theatre!" while the Reno Gazette called the group "Four big guys with even bigger voices!"
From "Ghostriders in the Sky" to "Phantom of the Opera" The IV Tenors turn the intimate Agua Caliente Lounge into a mini-concert hall with their musical tributes to great vocal groups like the Mills Brothers, The Four Aces, The Beatles, The Mamas and the Papas, Aerosmith and One Direction.
Best of all, to introduce The IV Tenors to the Desert this winter Agua Caliente is offering, for a limited time only, all seats, priced at $25 for just $12.50 on a "2 for 1" basis!
Producer Thompson, who has for more than 30 years produced award-winning shows throughout the world hand-picked each of The IV Tenors from a long list of lead singers who have starred in his productions throughout the years. Thompson's wife, Sunny Thompson, who stars in the critically acclaimed Marilyn: Forever Blonde production that sold out the Indian Wells Theatre last season, wrote the vocal arrangements for The IV Tenors.
The Tenors are former Green Beret turned horse rancher, Morgan James of Branson, Missouri, Award-Winning Cabaret and Broadway Musical Star, Brian Damson, International. Award-Winning Irish Tenor, Michael Scott Brooks and the youngest of the group, "The Stormin' Mormon", former Tabernacle Choir Soloist, Ken Nielsen.
The IV Tenors perform at 7pm every night in the Agua Caliente Cabaret except Tuesdays and perform at 3pm and 7pm every Sunday!
The "Two for One" ticket offer will only be available for a limited time only, and tickets can be purchased at the Agua Caliente Casino.
For tickets, please visit the Essentials Gift Shop at the Agua Caliente Casino Resort Spa.