"New Generation Of Teaching Artists Takes The Spotlight At Palm Springs Air Museum With You're A Good Man, Charlie Brown" July 16Th And 17Th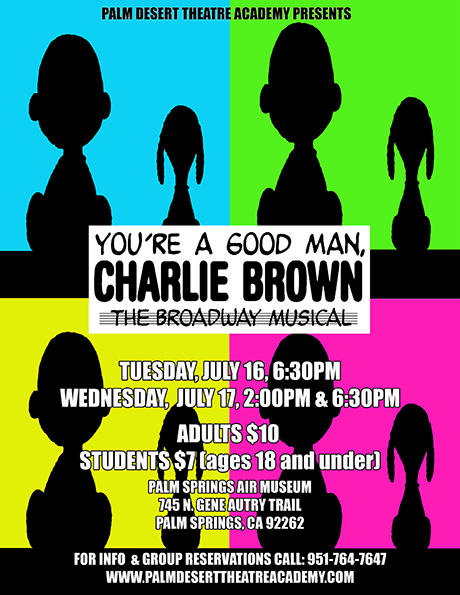 PALM DESERT- Palm Desert Theatre Academy (PDTA) is cultivating the crème de la crème of young thespians in the Coachella Valley. This summer, Palm Desert Theatre Academy's youth theatre program culminates with the award-winning Broadway Musical, You're A Good Man, Charlie Brown.  Directed by expert theatre educator, David Catanzarite and musical direction by Doug Wilson, the Peanuts gang is revived in this lighthearted musical comedy, based on the characters created by cartoonist Charles M. Schulz in his comic strip Peanuts. The show  opens Tuesday, July 16th at 6:30PM and continues Wednesday, July 17th at 2:00PM and 6:30PM at the Palm Springs Air Museum, located at 745 N. Gene Autry Trail, Palm Springs, CA.  Tickets are $10 for adults and $7 for students under 18. "Some of these kids are astonishing," says Director David Catanzarite. "This will be the most exciting theatre event in the Desert this summer, bar none!"
Palm Desert Theatre Academy has hired a batch of promising young artists, many of whom plan to teach theatre and dance as a career. According to conservatory Theatre Director, Karen T. Lin, "As a conservatory we are not only committed to fostering a new generation of talented actors, but also teaching artists." PDTA Tech Director, Brendan Blanchette, is studying to become a theatre teacher at Northern Arizona University. Lighting designer Dylan Feldman is a freshman at UC Berkeley. His work in Palm Springs High School's production of Phantom of the Opera won him a Desert Star Design Award for "Best Lighting Design"– beating out his older counterparts. Haley Izurieta started with PDTA in the 7th grade as a student. Currently a junior at Palm Springs High School, the star dancer has advanced to Lead Choreographer for You're a Good Man, Charlie Brown. Another PDTA protege, Stephanie Jauregui,  received her start with the Academy as a PSWIFT (Palm Springs Women in Film and Television) Scholarship Recipient with the Ophelia Project. She is now the Assistant Choreographer and Prop Master for PDTA's summer production.
PDTA's roster of young artists are under the mentorship of highly qualified teachers and veteran staff which includes Doug Wilson, former school principal and music teacher, Lynn Schwimmer, head of the only middle school theatre program in the Desert at John Glenn Middle School and Karen Lin, a National Board Certified teacher. Additional staff includes professional actor and performing arts teacher Daniela Ryan and David Catanzarite, a college professor and former assistant principal at a Los Angeles performing arts school. "Along with our friends at the Palm Canyon Playhouse we are the only professional theatre training program in the Coachella Valley," says Brendan Blanchette, past Thespian President at Palm Springs High School. "We have artists with professional experience and teachers who are highly qualified professionals. "
Palm Desert Theatre Academy emphasizes improving professional acting habits, stage presence, confidence, and life-long skills in speaking and performing in front of an audience.  Currently training 34 kids, teen actors in grades 7 through 12, and young actors in grades 3 through 6, the Academy boasts better than a 3:1 ratio, with a conservatory teaching staff of 12. The conservatory is training young actors to become company members, while seasoning a new generation of theatre artists. The Coachella Valley Economic Partnership formally recognize the importance of training and retaining theatre and film talent in the Desert. David Catanzarite notes, "Some of our students' parents are farm workers and some are doctors and lawyers. We make it possible for ALL young actors and artists to be a part of our program and have access to high level theatre training."
Palm Desert Theatre Academy is designed and led by David Catanzarite. Formerly a director at College of the Desert, David Catanzarite  directed Our Town, Blood Wedding, and At Risk. In 2009, David directed Tuesdays with Morrie starring Hal Linden at the Indian Wells Theatre. Currently David directs and teaches theatre at Palm Springs High School where he produced Sly Fox by Larry Gelbart, Phantom of the Opera and the musical Hairspray.
For tickets and group reservations for You're A Good Man, Charlie Brown, call 951-764-7647, or email pdta99@yahoo.com. Get ONE free admission with purchase of 10 tickets. Tickets are available for advanced purchase online at www.PalmDesertTheatreAcademy.com. Field trips encouraged for local after school programs and community youth centers. Optional festival seating available for kids and whom are welcome to bring cushions for seating for the ultimate Peanuts gang experience!