On The Desert Since 1913
Originally written for the Desert Sentinel
[Article 11: September 28, 1951]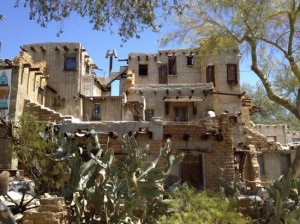 About this time Bob [Carr] and I learned how to witch for water, spending many hours with a witch stick walking over our claims. We started a well on a witched spot 200 feet from Bob's cabin door, finding good water at 20 feet, and this happily settled his water problem. I, too, carried much water from his new well, it being only about a mile walk for me.
Bob Carr was a delightful companion, a born story-teller and brilliant conversationalist. He had read many, many books, experienced much of life, both above and below average stratas. He had a typewriter and would work diligently until a story was in the mail and on the way to some magazine.
Then to relax, he and I would go out into the desert, build a campfire and talk hours at a time, occasionally all night. If weather was bad, we retreated to the Eagle's Nest Cabin or deep into mesquite hickets.
We expanded with delight to be out of cities, and because there was no office to go to, no time clock to punch, no city editor to please, and because we were away from people. We rejoiced in being free men (we cared not how poor) in a new clean world, and we were happy.
One day we arrived at the thought that civilized life had conventionalized the hours of sleep and mealtime until man was living unnaturally. We concluded [that] people ate when not hungry and were hungry when there was no time to eat. And time to sleep was also a matter of regulation. We had both lived with rather primitive Indians who had no clocks and no regulations. So we decided to experiment to see if food would take the place of sleep.
We put plentiful food, coffee and water in abundance on the strong back of Merry Xmas and started walking. Whenever hungry, tired, or sleepy, we stopped, built a fire, and had a meal. Then, refreshed, we walked on.
www.cabotsmuseum.org for tour information and ho