Palm Springs Shortfest Kicks Off with Opening Night Films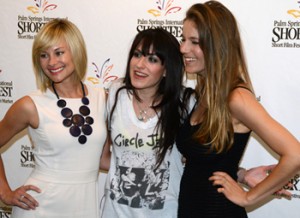 PALM SPRINGS – This year's opening night screening titled "Laughing Matters" on Tuesday, June 18 at 6:30 p.m. at the Camelot Theatre will be highlighted by a selection of comedy shorts from around the world.  Films include: "Blessing in Disguise" (USA), "Chopper" (Netherlands), "Crush 472" (United Kingdom), "Do I Have to Take Care of Everything?" (Finland), "Killing Vivian" (USA), "OMG" (Canada), "Penny Dreadful" (USA), "The Pick Up" (USA), "The Pledge for Mr. Bunny" (Australia), and "Tram" (France).
The 2013 Palm Springs International ShortFest, held June 18-24, 2013 will screen 330 films including 70 World Premieres, 55 North American Premieres and 14 U.S. Premieres. The concurrent Short Film Market will feature a library of more than 3,000 films from the festival's submissions, which is available to film buyers, industry and press, the only Short Film Market in North America. For more information visit www.psfilmfest.org for a complete list of this year's film programs.
Expected to attend Opening Night are director Eric Kissack, "Blessing in Diguise;" director Siobhand Devine, "OMG;" director Shane Atkinson, "Penny Dreadful;" director Isa Totah and actor/producer Will Potter, "The Pick Up;" and director Kevin Lim, "The Pledge for Mr. Bunny;" ShortFest Programming and Executive Director Darryl Macdonald, ShortFest Film Curator and Director of Industry Programming Kathleen McInnis, and filmmakers from around the world.
Opening Night Reception at Lulu California Bistro in Palm Springs.