Parents play a pivotal role in keeping kids out of gangs
By Investigator Lance Colmer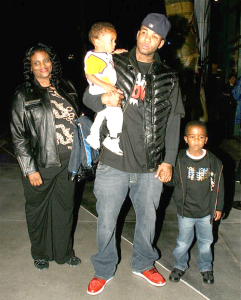 On May 7, members of the Coachella Valley Violent Crime Gang Task Force assisted investigators from the Palm Desert Station in the identification and arrest of a male suspect wanted in connection with a March 2013 assault with a deadly weapon investigation.
In a press release, the Palm Desert Police announced the arrest of Juan Antonio Hernandez, a 31-year-old male from Indio. Hernandez was arrested by members of the Gang Task Force for two warrants related to this investigation. One warrant was for assault with a deadly weapon and mayhem. The second warrant was for violating parole.
Like most sizable communities, cities throughout the Coachella Valley have experienced crime and violence related to criminal street gangs. In 2008, the Riverside County District Attorney's Office filed the first ever gang injunction in the Coachella Valley, aimed at combating the criminal activities of the Barrio Dream Home gang. Additionally, area law enforcement agencies have created gang enforcement units to combat gang crimes in their respective jurisdictions.
Despite these efforts, the Riverside County Gang Task Force estimated the number of separate gangs operating in the County at over 390, comprising thousands of individual members. In response to this disturbing trend, law enforcement agencies throughout Riverside County combined resources to form the Gang Task Force, which is divided into eight regional units across Riverside County. Since its 2006 formation, the Gang Task Force has apprehended thousands of gang members for a multitude of crimes.
Notwithstanding these successes, law enforcement cannot effectively combat gangs without the support and involvement of parents and teachers. Parents and school officials, who are in daily contact with teens, are in a great position to intervene when gang involvement is suspected. The key is being able to recognize the signs associated with gang participation.
Parents should know who their kids are hanging out with and should pay attention if their child shows an unusual interest in a particular color of clothing or a particular logo. Gangs will often choose a specific color or team logo as a sign or symbol of the gang's name and display these symbols on clothing or in graffiti.
Tattoos are an obvious indicator of gang involvement, but not all tattoos are gang related. If your teen comes home with a new tattoo, parents should consult a police gang expert, who can indicate whether or not the tattoo is associated with a particular gang.
Teens that come home with unexplained injuries may have been "jumped-in" to a gang. Jumping-in refers to a gang initiation which involves getting beat by other members as a sign of loyalty and respect for the gang.
Negative changes in behavior such as withdrawing from family, poor school performance, signs of drug use, and consistently breaking rules may also be warning signs of gang involvement.
Parents should search their children's rooms thoroughly and often for indicators of more serious gang participation, such as weapons possession and photographs depicting gang members displaying hand signs or wearing gang related clothing.