Pig Roast July 5th at 3rd Corner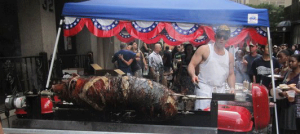 Join the 3rd Corner restaurant and wine store in Palm Desert is hosting an AFTER Independence Day Celebration on Friday, July 5 from 5 to 8 p.m. Price is $38 per person.
3rd Corner's Chef Matt has purchased a whole pig from Cook Pigs Ranch and invites the public to an after Independence Day celebration. Chef will be utilizing the entire pig for a 5 course meal. You will not want to miss this rare opportunity to taste some amazing pork that has been treated with the greatest care.
Please call to reserve your seat (760) 837-9600
1st Course:
Charcuterie Board, crispy pig foot terrine, shaved radish & whipped lardo deviled egg 
2nd Course:
Braised Pork Belly, onion-cardamom puree, roasted baby carrot & molasses glaze
3rd Course:
Pork Picnic Ragu w/ Housemade Cavatelli Pasta, crispy skin gremolata, parmesan cheese & arugula
4th Course:
Smoked & Grilled Pork Loin, corn, kale, red pearl onions & chimichurri sauce 
5th Course:
Pork Fat Biscuit, peaches, lavender & honey whipped ricotta