Plastic Bags? No, Thank You.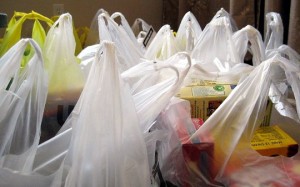 Lisa Teuber, 18, and Lena Jahnke, 19, are volunteers with a public awareness campaign in Bonn, Germany called "Plastiktüten? Nein Danke!" or Plastic Bags? No, Thank You. They gave up plastic bags for Lent last year and continue their crusade to persuade customers to bring reusable bags when they go shopping.
Closer to home cities across the Coachella Valley are taking up the same effort and moving ahead with a ban on plastic bags passed out at grocery stores and other retail outlets.
Desert Hot Springs becomes the first city in the Coachella Valley to move towards a plastic bag ban when its city council voted unanimously to adopt an ordinance that had been crafted by the Coachella Valley Association of Governments as a model ordinance.
That ordinance has the support of the California Grocers Association.
"Critical to the grocers is that they have uniform regulation, not a hodgepodge of different regulations," said Desert Hot Springs Mayor Pro Tem Russell Betts, who sponsored the measure in Desert Hot Springs along with Councilman Joe McKee.
"It was important to contact the business. They will largely be responsible for implementing this measure to make sure it does not hurt their business," said Betts. "We did that. This measure is business friendly."
Built into the Desert Hot Springs ordinance is a mechanism to reimburse retailers for the added cost of providing paper bags. Desert Hot Springs will not collect any portion of the charge for paper bags that is set at $.010 per bag.
The city of Palms Springs is also moving to adopt an ordinance and appears to be the next Coachella Valley city to do so. At its council meeting on Wednesday, the city council urged the Palm Springs Sustainability Committee to move quickly with a draft ordinance for presentation to the council for approval.
"I would love us to have the distinction of being the first city in the Coachella Valley to have this ordinance," Palm Springs Councilwoman Ginny Foat said.
Even if Desert Hot Springs beat Foat and the rest of the Palm Springs city council to that distinction, Foat's comments are indicative of the urgency Valley council members have placed on ending the nuisance of plastic bags.
In a staff report to the Desert Hot Springs city council when the ordinance was considered, problems created by the plastic bags were identified as wide-ranging. The plastic bags tangle recycling equipment, blow out of the tops of trash trucks and are seen as a constant visual problem as they get caught up in trees and bushes.
"The other type of litter, the paper cups and cardboard are easy to pick up," said Betts. "But as I went out on the clean up crews here in the city what I learned is that even with a rake it is near impossible to detangle a plastic bag from a bush."
The Desert Hot Springs ordinance grants large retailers a six-month grace period for implementation and smaller retailers will be allowed a year to make the switch.