The Purple Room Spicy, Jazzy, Classy Blues
By Carolyn W. Gaines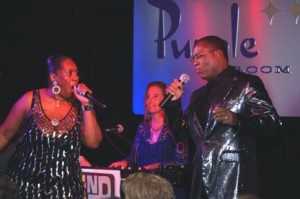 Palm Springs, CA.- Shirley King Sold Out, at the Purple Room! With two kings, two queens you got a good handle, with a superstar, diva, comedian, daughter of the blues with her opening act "Mr. Fabulous" Tony Grandberry. Their Blues fans all agreed King and Grandberry are exactly what they needed to laugh, smile be happy and forget about health problems, sing along, clapping hands, and dancing.
When the blues daughter completed her set, we all knew the song stress was the "Queen of Two Evenings" to keep the Blues alive for Ma Rainey, Bessie Smith, Ida Cox, Koko Taylor, and Etta James again all rolls up in one.
The Purple Room kicked off in a gusty, wind of a perfect, jazz, instrumentalist song for their lovely fans. The songster, "Mr. Fabulous" Tony Granberry kicked off a Purple Room night with 'Stormy Monday' like Lou Rawls and Roy Gaines. John Bolizar, soloed a high-point of both nights with his golden saxophone. Their blues and jazz fans were outstanding in every effort to watch Grandberry's and King's mighty show.
Tony's showdown the Purple Room with Sly & Family Stones, pop, funk song called, "If You Want Me To Stay." The Gand Band kept everyone warm with their musical piano and guitar grand notes for their fans.
Shirley King stood behind the stage singing. Blues fans chilled looked in panic, facial expression. Where is King? She appeared on stage in her attire of a lengthy cheer, silky, silvery gown with black shoes.
She sang "Momma Don't Take No Stuff" and Rock Me All-Night Long" with a strong flow.
She said, "My dad taught me that blues are good for the soul." She bought blues to Palm Springs like Buddy Guy with the 'Jimi Hendrix's Experience', Roy Gaines, and B.B. King.
She said, "I am here to have blues fun can you give it up to night?" King said, "I am going to sing the " Thrill Is Gone" my way and not like my dad, B.B. King. It ain't gone make me cry."
She is ready for Blues #1 one hit, and big-huge festival dates just like blues giants Buddy Guy, Shemekia Copeland, Bonnie Raitt, and Billy Cox. It is Shirley King and Roy Gaines' time for mammoth concert promoters to call them. Her fans gave the Superstar gigantic love, and she gave them galactic love back.
Donna said, " She gave energy that was amazing and real, no better show in town, and we need more blues entertainment like Shirley King in town."
The Desert Star Weekly Newspaper said, "Shirley King was superb-entertaining and magical like her, dad, B.B. King."
Todd said, "I never had that much fun in a long-time. Absolutely brilliant entertainment that I never, ever heard!"
Bob said," She is a very good entertainer."
Lisa said," The Show was so fff-in fantastic and unforgettable."
The Desert Star Weekly Newspaper said, "Shirley King is a superb-entertainer and magical like her, dad, B.B. King."
Finally, a six years-old Julian Munden attended Purple Room the first night and performed with King on
a song called 'MoJo'. Julian said,' He loves the Blues."
Visit http://purpleroompalmsprings.com/
Photo credit: Gregg Felsen