Sanchez In, Parks Out in DHS
Story & Photos by Bruce Montgomery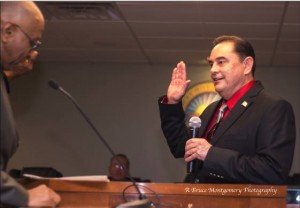 DESERT HOT SPRINGS – It was standing room only at the Desert Hot Springs City Council when it met at the Carl May Center on Tuesday, Dec. 3.
It was a particularly momentous and emotional time for various city representatives and the residents in attendance. It marked Yvonne Parks's final day as mayor of DHS — a position in which she served from 2007-13 — and the swearing-in of former councilmember Adam Sanchez, Sr., as her replacement. Sanchez inherits a city beset by budgetary woes.
Councilmembers Scott Matas, Joe McKee and Jan Pye were also sworn in.

In one of her final official gestures, Parks presented certificates of recognition to the DHS High School Golden Eagle Band, the city's proud award winners under the eight-year direction of Brian McDaniel.

The councilmembers recognized Parks for her six years of service. Parks then expressed her gratitude to the city staff. "I want to thank you all for working so diligently to keep this city moving," she said.