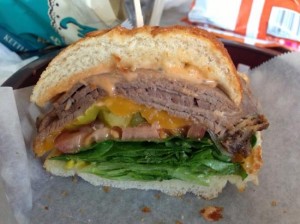 Palm Springs – The sandwich is not exactly the culinary equivalent to the Mona Lisa. Sandwiches get a bad-wrap. They are considered simple; they are to-go food – something has only to be eaten when in too much of a hurry to get something better. Proving these notions wrong, The Sandwich Spot in Palm Springs is more of a destination than an afterthought.
It's amazing that one of the if not best sandwiches in the Coachella Valley come from a place that originated in Northern California. In 2005, Tom Slick opened the first Sandwich Spot in Sacramento, and business has been booming ever since. The eatery's commitment to serving amazingly fresh breads and veggies that supplement hearty cuts of meat and savory sauces is what keeps lunchtime lines long regularly.
The mom-and-pop restaurant was so sought-after, the only way to feed more people was to open more Spots. Including the Palm Springs location, the one-of-a-kind sandwich establishment opened 21 additional shops, with another three that are coming soon.
The Sandwich Spot is a cut above. Creating a good sandwich requires ingredient excellence, from the freshness of bread to the quality of the veggies. Once top-notch ingredients have been attained, the only remaining way to elevate your sammy is to get creative, and there is no limit to imagination when it comes to making a sandwich at The Sandwich Spot.
If one of the 24 arbitrarily named sandwiches like The Djokovic (hot turkey, bacon, cheddar cheese and avocado), The French Open (marinated chicken, hot sauce, blue cheese dressing and pepper jack cheese) or The Dirty Weekend (hot roast beef, 1000 islands dressing and melted cheddar) does not seem to catch the taste bud, there is always the create-your-own option. In case there is a picky eater, all sandwiches can be customized. The Sandwich Spot, however, suggests that all sandwiches come with everything: mayo, mustard, secret sauce, lettuce, tomato, pickles, onions and spicy pickled peppers.
Generally speaking, one part of the sandwich that does not get enough attention is the bread but The Sandwich Spot does their rolls right. All four types of bread are fresh and delicious but the component that puts the deli over the top is their Dutch Crunch bread – a soft chewy roll with a lovely crunch texture on the outside.
Where most sandwich crafters would only have basic meats and cheeses, The Sandwich Spot tops its sammies with anything and everything. Some untraditional sandwich items include: cream cheese, prosciutto, teriyaki sauce, pineapple, "secret sauce," and Bomb Sauce (homemade jalapeno ranch). No matter what is created, the food architects behind the counter will be sure to design an edible masterpiece that is large enough to feed a couple.
So if you happen to be cruising down North Palm Canyon Drive, and you feel a hunger rumble in your tummy, make sure to make a stop at The Sandwich Spot. The small chain is open seven days a week, 11 am – 6 pm (open until 7 pm Thursday – Saturday).
For more on the Coachella Valley, follow Dan on Twitter @Dsmarine7.