Palm Springs Historical Society First Coachella Valley Spotlight Recipient of 2014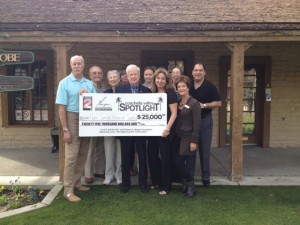 Palm Springs, CA. – Portions of Palm Springs' history will be saved thanks to a $25,000 grant from the H.N. and Frances C. Berger Foundation. The Palm Springs Historical Society (PSHS) was the first Coachella Valley Spotlight recipient of 2014. Staff, volunteers and members of the board were presented the large check in the Village Green Heritage Center on Palm Canyon Drive in front of two 19th century pioneer homes, The McCallum Adobe and Miss Cornelia White's "Little House," which are now museums operated by the PSHS.
"This is an amazing gift," said Jeri Vogelsang, Director and Curator of the Palm Springs Historical Society. "Every day that we don't protect these archival photos and artifacts, we lose some. We catalog, maintain and preserve these pieces of Palm Springs' history without the benefit to the public."
The Palm Springs Historical Society was founded in 1955 to promote public education, awareness and appreciation of the history of Palm Springs. Each year, the museums, located in the heart of the city, see about 25,000 visitors. PSHS provides a historical research library to the community, which served about 700 researchers last year. Staff and volunteers of the organization also run a local history program for about 350 third-grade students at three Palm Springs elementary schools.
"This is an organization that is benefiting young and old, and will serve many generations to come," said Catharine Reed, Senior Program Officer for the H.N. and Frances C. Berger Foundation. "Seeing which organization the CBS Local 2 Advisory Board selects for the Coachella Valley Spotlight grants is very interesting. We often see new community needs, and we see what some of our community leaders think are important to fund."
Grant recipients of the Coachella Valley Spotlight were selected from about 70 applicants at the end of 2013 by the CBS Local 2 Advisory Board, which includes two Berger Foundation representatives.
"Preserving community history for future generations is something journalists are very familiar with," said Mike Stutz, General Manager of Gulf California Broadcast Company, which owns and operates CBS Local 2. "This month, we are not only able to share the story of the Palm Springs Historical Society, but we are also able to tell something about the community's early beginnings and why this information is worth carefully protecting."
Along with the funds, the Palm Springs Historical Society was featured on CBS Local 2's "Eye on the Desert," in public service announcements and on the http://www.cbslocal2.com website throughout the month of January. To learn more about the organization, call 760-323-8297 or visit www.pshistoricalsociety.org.