Semi-pro football team Desert Chiefs on a roll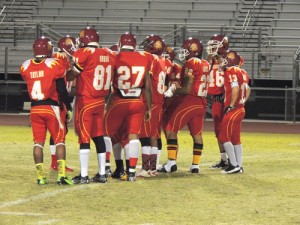 INDIO — Somewhere between high school football on Friday nights and NFL Sunday, the Desert Chiefs, Indio's semi-pro football team, have found a home.  
"The team was started when a group of 40 young men approached me and asked me to start a football team," said Rosie Welmas, owner of the Desert Chiefs and founder / CEO and of the charitable organization Rosie's Kids (rosieskids.com). "So I went for it."
The Desert Chiefs are in their inaugural season, with the first tryout for the team taking place in May. Their first game was on August 17 and they've been rolling ever since.
By defeating the Santa Barbara Seminoles at Shadow Hills High School last Saturday, the Desert Chiefs won their fifth straight game and are now 5-0.
"Most of our players are amateurs in the semi-pro world but most have been playing since they were in youth football," Welmas said. 
Led by Coach Rich Botich, the Desert Chiefs' on-field talent is comprised mostly of local players. Even though it's "semi-pro," the players are not getting paid — yet.
"No one gets paid," Welmas said. "They love the game so much."
However, not all of the players are playing for the just love of the game.
"Some are trying to get noticed by arena or pro football. They have dreams of making it to the pros and play their hardest every game," Welmas said  
Shadow Hills High School, the location of every Desert Chiefs home game, offers all-inclusive atmosphere.
"We hope to create a family-friendly environment and a classy, professional, NFL-ruled game of football," Welmas said.  
Tickets to the games are only $10 and kids under age 10 get in free. Concessions are available, and they even have a Desert Chiefs cheerleading squad to pump up fans.
The Desert Chiefs play before an average game attendance of 1,000 fans. They are one of nine teams in the Pacific Coast Football Conference (PCFC). 
Welmas's immediate goals as the team's owner are "to give the players an opportunity to achieve their dreams of making it to the pros and give the community a great game of professional football, where it's fun for the entire family at a very low price."
"My vision is to have the Chiefs here for a very long time so that I can continue to offer these young players a place to play at a professional level and to continue to raise money for local youth programs."
Currently, the Desert Chiefs are in second place, with four games remaining in the PCFC. The champions of the league not only get bragging rights, but every player on the team earns a trophy and a championship ring.
The Desert Chiefs are on the road this week and look to continue their winning streak against the Granada Hills Longhorns. Game starts at 6 p.m.