The Sparrow Hotel Alights in Palm Springs
PALM SPRINGS – Here is this much-renovated city's ultimate "motel" makeover success story: The Sparrows Hotel.
PALM SPRINGS – Here is this much-renovated city's ultimate "motel" makeover success story: The Sparrows Hotel.
The property was formerly the EL Rancho Lodge, which opened in the 1950s as a roadside motel and languished for years until Doug and Josie Smith stepped in and transformed it into a Western-themed mini-resort with 19 guestrooms.
The Smiths had great success with another Palm Springs hideaway, the chic Korakia Pensione. For the record, Korakia translates to crow in Greek. So it's fitting they chose a new bird-inspired name for their latest project.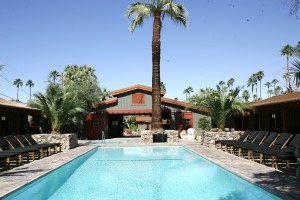 The old El Rancho Lodge would have galvanized movie fans had it been used in a scene from a mid-century film noir detective drama. (My travel pal said "sleazy" would be the operative word.) But that was yesterday.
Hold on to your crew cut and pony tail, because this relic has undergone what most of my friends have had — a serious facelift. In this case, The Sparrows Hotel has emerged a white swan. It is an ugly roadside duckling no more.
As a rebel against cookie-cutter hotels, The Sparrows makes a refreshing statement in the boutique hotel category. It was chosen as one of nine new design-driven hotels in the U.S. to open this year by Fodors.com. On its blog, Fodor's referred to it as a "funky," while UrbanDaddy.com called it "aggressively rustic."
Point your iPhone in any direction and something clever pops up. Noteworthy is a horse trough repurposed as a bathtub — perfect for anyone fitting into a size 10 or under. The hotel's 25-foot-long barn, with its exposed wood, is the "hangout" conveniently adjacent to the swimming pool. House-baked pizzas are promised.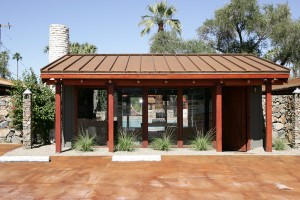 Guestrooms showcase soft comforts but television and telephones are absent. Dogs are welcome; however, no children, please.
The Sparrows Hotel is something to chirp about — and just in time for Modernism Week. Their sign at 1330 E. Palm Canyon near Sunrise is symbolically low-key, too: an image of two sparrows and nothing else.
Rates start at $175 a night. Call 760-327-2300 or visit thesparrows.hotel.com.
Pamela Price (radiotrav2002@yahoo.com) is the co-author of "Day Trips from Los Angeles," published by globepequot.com.