"THE TASTE"
Paramount Pictures Studios in Hollywood is the place to be this Labor Day weekend if you're a fan of the latest trends in food, wine, mixology and celebrity chefs. The opening night is Friday, Aug. 30 with the week-end a nonstop schedule to follow on Aug. 31 and Sept. 1.
The Los Angeles Times takes the lead in this singular event bringing together restaurant personalities, cooking demonstrations and authentic dishes from around the world on the Taste Bar Stage and the Cadillac Culinary Stage. That's just the frosting on the cake in culinary terms. Opening night on Aug. 30 marks the moment when signature dishes and fine wines take the spotlight with four themed events follow.
"This is the restaurant event I wait for all year," said Philip Alvidriz, representative for Serendiptea, a commercial tea company specializing in servicing restaurants nationwide. "The Taste is the ultimate nonstop food and wine celebration staged for every taste, from mixology demonstrations to mingling with chefs such as Kuniko Yagi and Brandyn Tepper from Hinoki and the Bird."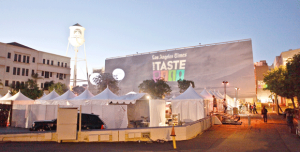 If you arrive on Saturday, Aug. 31, you can catch the opening event at 11:45 a.m. for Field to Fork hosted by Russ Parsons and Michael Cimarusti. During the afternoon Flavors of L.A. takes over with seven events on the stage. That's just a warm up for Sunday's schedule with a Labor Day Block Party hosted by Noelle Carter and Nancy Silverton, concluding with Cocktail Confidential at 7:30 p.m.
Tickets start at $65 with upgrades available for two "secret events." For example, "Flavors of LA" (add $50) gaining you entrée to the 8:30-10:30 p.m. "secret cellar" with wines from Italy, France, Israel, Spain, New Zealand and Argentina curated by Ira Norof of Southern Wine & Spirits.
This nonstop Labor Day weekend "brings to the table" a mélange of more than 100 restaurants from Café Gratitude and State Social House to Uncle Lou's Island Barbecue and "Legacy Restaurants" such as The Blvd at Beverly Wilshire Hotel. Wine wise there are wineries, spirits and breweries represented from Atlantica Rum to Eppa Sangria. In short, this is an unparalleled food extravaganza designed to please all palates.
Order tickets for the Los Angeles "The Taste" Food & Wine Festival at latimes.com/thetaste.
 Pam Price, author of Day Trips from Los Angeles can be reached at MsConnect70@gmail.com